In the sections below you will find answers to frequently asked questions. Is your question or answer not listed?
You can contact The Oude Pastorie via: info@deoudepastorielisse.nl
---
Bed&Breakfast
How many rooms does B&B The Oude Pastorie have?
The Oude Pastorie has a total of 3 individual rooms available. Each room has its own bathroom.
Is there a difference between these rooms?
Yes, each room has its own theme with unique amenities. For example, the Milo room has an industrial theme and this room also has a Playstation 4. The bathroom has a walk-in shower. The Olivia room is the romantic room and is the only room with a bathtub in the bathroom. The Nora room is furnished with furniture and products from Riviera Maison. This room also has a walk-in shower and marble tiles in the bathroom. However, all rooms are approximately 24 m2 in size and usually the prices are the same for all three rooms.
What room amenities are there in the rooms?
Each room has the following amenities:
•  Safe
•  Airconditioning
•  Heating
•  Hand- & Bath towels
•  Free WIFI
•  Kingsize Bed (210 x 180cm)
•  Nespresso machine & various Coffee cups
•  Eco-friendly kettle and 'Tea Quiero' tea
•  SMART TV with Netflix
•  Bathroom with toilet and a big walk-in shower or bathtub
•  Soundproof/quiet room
•  Smoke free room
•  Hair dryer in the bathroom

What kind of facilities are available in De Oude Pastorie?
De Oude Pastorie has a shared kitchen and a shared lounge area. In the kitchen, guests can prepare their own meals and use the stove and dishwasher. And the lounge area has a pool table, where guests can play pool.
What kind of breakfast do guests receive?
When checking in guests can fill in a checklist with various food products and ingredients to put together their own breakfast.
Are animals allowed in the Bed&Breakfast?
No, pets or other animals are not allowed in the building. De Oude Pastorie is not obliged to allow any pet(s) or other animals of the guest and can attach conditions to the admission. The legal regulations apply to the admission of assistance dogs, including the exceptions specified therein. In this case, the customer must indicate in advance that hey will bring an assistance dog along.
Is there a lift in the building?
No, there is no elevator in the building present, but there are stairs. To get to the rooms you have to climb up two flights of stairs, of which the last one being quite steep. Guests must also carry their own luggage upstairs, The Oude Pastorie is not responsible for this. We advise you to not make a reservation with us if you or your group has difficulty walking or are in a wheelchair, because of the steep stairs. Ultimately, the choice is yours.
What are the house rules at The Oude Pastorie?
As with any hotel or Bed & Breakfast, house rules apply within the building. For the guests of the Bed & Breakfast some house rules and obligations apply during their stay. If guest don't comply with one or more rules, there is a risk of a warning, fine or you and your company may even be evicted from the building. Here is an overview of our house rules:
The kitchen and lounge area are used jointly by all B&B guests
Guests may cook during the day and prepare meals in the kitchen
Guests can play pool, play radio/music and watch TV in the lounge during the day
Take your fellow guests into account, always treat each other with respect
Coordinate with each other when you and other guests want to use the kitchen or lounge area at the same time
The property is ONLY accessible to B&B guests
Inviting friends/acquaintances into the building is NOT allowed
Alcohol and drug use in the building is NOT allowed
You may operate the radio/music player yourself, but keep the volume reasonably low
You may operate the television yourself, but keep the volume reasonably low
Please report vandalism or damage to the property, furniture or objects to the owner
Kitchen and lounge area do not serve as storage for luggage or other belongings
We will NOT tolerate theft! If this does happen, report this as soon as possible
Obligated:
Keep the kitchen and lounge area clean after use
Use the dishwasher for your dirty dishes and cutlery
Guests must leave the kitchen and lounge area at 23:00h / 11 PM
Starting from 23:00h / 11 PM the kitchen and lounge area must be quiet
The entire building must be quiet starting from 23:00h / 11 PM
Is there camera surveillance in the building?
Yes, there is camera surveillance in the building. If you or your partner violates one of the above rules, a warning may follows, you can risk a fine or you can even be evicted from the property immediately . Misconduct can also have consequences at your affiliated Online Travel Agency (OTA).
Are the owners always present in the building?
Yes, the owners of The Oude Pastorie also live in the building, on the first floor.
What languages are spoken?
Homeowners and staff can speak Dutch, English and German.
Is the Bed&Breakfast open during the whole year?
No, each year the Bed&Breakfast will be temporarily closed during the end of the year. You can check our website or the availability of our rooms via OTA to find out when the Bed&Breakfast is open or will be (temporarily) closed.
Are the organic restaurant and fashion boutique Chaveli's still open?
No, both the organic restaurant and fashion boutique 'Chaveli's' have stopped operating since September 2019. The building is only accessible to B&B guests, owners, staff and staff of Work2Work.
What is & where is Work2Work?
Work2Work BV is a re-integration office and is situated in the back (extended part) of the building. This office belongs to the owner and it is accessible via the garden. If the owners aren't present in the building during office hours, it could be possible that someone is present at the office. If you do not find anyone at the front door upon arrival, you can always visit Work2Work during working hours.
---
Bookings & Reservations
How can I book an overnight stay?
You can book one or more nights via our website or via an Online Travel Agency (OTA) such as: Expedia, AirBnB or Booking.com. Pay close attention to the availability of the rooms on your desired date for the overnight stay(s).
Is breakfast included in the price?
No, an additional amount of € 15 per person per day will be charged for breakfast. If interested, you must add this option when booking your overnight stay(s) or request it during check-in. We prefer the first option.
I have reserved a room, can I cancel it and are there costs involved?
Canceling is always possible, but only if you cancel more than 24-hours before the day of your stay, it will be free (unless it concerns a 'non-refundable' reservation). If you wish to cancel within 24-hours before the day of your overnight stay, the entire amount will be charged. This may vary per Online Travel Agency (OTA) or in some cases you will only be charged one night of your reservation. View the cancellation conditions here for more information and instructions about canceling your reservation.
What does it mean if my reservation is 'non-refundable'?
Non-refundable reservations are reservations that cannot be refunded in the event of cancellation, once the reservation has been confirmed. This is the case with reservations that Online Travel Agencies (OTA's) sometimes offer for prices lower than normal, but on the other hand they cannot be canceled free of charge. If the reason for your cancellation is covered by the terms and conditions of your insurance policy, you may be able to reclaim these costs through your travel insurer.
When making your reservation, pay attention to whether you choose the lowest price that may be 'non-refundable' or the standard price, whereby you can cancel free of charge up to 24-hours before the date of your overnight stay. After confirming a 'non-refundable' reservation, The Oude Pastorie can no longer make an exception in case of a cancelation.
Can I change my reservation?
Yes, you may change your reservation through your connected Online Travel Agency (OTA) or if you have booked through our website, you can send us an email. Please note that your change must match with the availability of our rooms. If this is not possible, we cannot make an exception due to other scheduled reservations.
Will I get a refund if I reduce my reservation in the number of nights in advanced?
Yes, but the financial aspect of reducing the number of overnight stays is usually handled via your OTA, therefore you should contact your affiliated OTA first as soon as possible. Through their ability, changes can be made to our system automatically. This is possible after approval from De Oude Pastorie. If you have made a reservation through Booking.com and have already paid the full reservation value, they will ensure that the amount for the reduction in the number of nights is refunded to your account. Please note that this refund can take several workdays to complete.
If you have reserved through our website, you can contact us to possibly change your reservation.
Can The Oude Pastorie cancel my reservation?
Yes, but this is only possible in specific cases:
The Oude Pastorie may cancel your reservation at any time with immediate effect by notifying you in written form (including e-mail) if you fail to pay all costs related to your reservation in full and on time.
If you break one or more rules of our Booking Conditions. This is in addition to other legal rights and remedies that we have as a result of your breach of the agreement.
In exceptional circumstances we may be forced to cancel your reservation due to "force majeure". If this actually occurs, we will inform you as soon as possible and:
• If you have already paid, we will refund your costs
• If you have not yet paid for your reservation in advanced, you do not have to anymore
In case of a 'force majeure', we regret that we cannot contribute to any expenses or losses that you incur due to such a change or cancellation.
What is meant by force majeure?
For the purpose of this clause, "force majeure" is defined as any event that we could not foresee, even with the utmost care, as a result of which we cannot garantee a comfortable stay in your room. These events may include war, threat of war, civil unrest, terrorist activities and the consequences of the threat of such activities, riot, act of a government or other national or local authority, including port authorities, labor dispute, closure, natural or nuclear disasters, fire , chemical or biological disasters and adverse weather, sea-, ice- and river conditions and such events beyond our control.
---
Check-In and Check-Out
What are the times for checking in?
Check-in is possible from 3:00 PM If you arrive later, let us know when booking your overnight stay. Check-in is possible until 8:00 PM, but if you arrive later, please let us know in advanced. The door closes at 10 PM at the latest, unless otherwise agreed with the host.
Can I also check in earlier at De Oude Pastorie?
This is possible, but if your room is not ready before 3:00 PM, we can store your luggage (free of charge) until your room is ready. In the meantime you can explore the village. If your room is ready before 3 pm, you may check into your room straight away.
What are the times for checking out?
Check-out is possible until 11:00 AM at the latest. Do you want a late check-out? Then itdepends on whether the room is still available later that day. If it is possible, an amount of € 50 will be charged for a late check-out.
What happens in case of a 'No-Show'?
If you are unable to arrive on location on the day of your stay, please let us know in time! If you do not show up after your estimated time of arrival and you do not cancel your reservation, we will consider your reservation as a 'No-Show'. The disadvantage for the customer in this case is that the entire reservation amount of the overnight stay(s) will be charged as normal. Unfortunately, the customer won't get the (full) reservation amount back, unless there is a very valid reason and The Oude Pastorie may approve your explination. If this is the case you must first contact your Online Travel Agency (OTA). They will determine whether there is a possibility to limit the amount to be paid to the value of only one overnight stay. PLEASE NOTE: this is only possible in negotiation with your relevant OTA, who will then request approval from The Oude Pastorie itself.
The Oude Pastorie is obligated to inform your OTA in the case of a 'No Show'.
Due to my flight or trip, I cannot make it to The Oude Pastorie on the day of check-in, what do I need to do?
If this is the case, inform us as soon as possible about your situation. We also strongly recommend that you take out personal travel insurance policy for all members of your group. It is your responsibility to ensure that the insurance coverage you choose suits your personal needs. The Oude Pastorie does not check insurance policies. If for some reason you cannot reach our location or you have to cancel your reservation when it's too late, you may be able to get your money back through your travel insurance company.
How can I pay on location?
It is possible to pay on location with a debit card, credit card or cash. With regard to credit cards, we accept Maestro, Mastercard, Visa, Vpay, UnionPay, JCB and Diners Club International.
If you are traveling from abroad, always make sure that your debit card is activated for use abroad.
Can additional costs be charged?
Yes, tourist tax is always charged on location. Other costs depend on your stay or the activities during your stay.
At check-in:
If you have already paid the reservation amount during your online reservation, then only the tourist tax has to be paid on location. The tourist tax is € 2.48 per person per night. Would you like extra breakfast, that you haven't added as an extra option during the reservation? Then you can also request this at check-in and pay these immediately.
If you have booked  via Expedia and haven't paid the reservation amount yet, then this amount must also be paid immediately upon check-in.
At check-out:
If The Oude Pastorie finds out that you or your party have misbehaved, failed to comply with the rules or caused damage to the room, bathroom, facilities or the property? Then The Oude Pastorie can charge you extra costs for these actions.
If you have any request or extra options during your stay, then the amount for these requests/options can also be charged at check-out.
---
Directions, Parking & Accessibility
What is De Oude Pastorie's address?
The address of The Oude Pastorie is Grachtweg 2. The zip code is: 2161 HN in Lisse.
The nearest bus stop is 'Lisse Centrum'. If you get out at this busstop, you must walk towards the supermarket 'Hoogvliet'.
If you walk straight ahead along the Hoogvliet towards the square 'Het Vierkant', you will walk into the Grachtweg. At the corner, after restaurant 'Chefke's' and after the parking lot, The Oude Pastorie is situated on your left.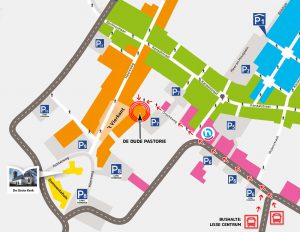 How do I get to Lisse by car?
Lisse is located very centrally in the Randstad and can be reached within 30 minutes from Amsterdam, Haarlem, Leiden and The Hague. To get to Lisse you can use one of the following exits on the highway:
•  On the A4 you can use the Nieuw-Vennep, Lisse and Hillegom exit
•  On the A44 you take exit 3 "Lisse"
•  On the N206 you take the "Lisse" exit
•  Then follow the signs "Lisse" and inside Lisse the signs Lisse Centrum
Where can I park?
Parking space P7 is located right next to our building, but here you can park for free for up to 2 hours only (Blue parkingdisc zone). These zones are recognizable by the blue lines in front of the parking spaces.  Though there are two supermarkets located at a distance of 400 meters, where you can park for free at any time. This is possible at parking zone P6 (at Hoogvliet) and P8 (at Dirk van den Broek). On sundays, you can park for free in the entire village. The following image shows where these free parking zones are located.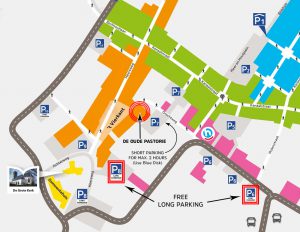 How do I get to De Oude Pastorie by public transport?
If you travel by public transport, it is best to reach Lisse by bus. If you travel by train, you can transfer to a bus at Schiphol or Sassenheim Station. Here is a list of the bus lines that will go to 'Lisse Centrum'.
•  Haarlem Station:
From Haarlem Center you can take bus 50 towards Leiden Centraal. After approximately 30 minutes you have to get off at bus stop: Lisse Centrum.
•  Hoofddorp Station:
From Hoofddorp Station you can take bus 162 in the direction of Lisse. After approximately 40 minutes you have to get off at the final stop: Lisse Centrum.
•  Leiden Central:
From Leiden Central Station you can take bus 50 in the direction of Haarlem. After approximately 30 minutes you have to get off at bus stop: Lisse Centrum.
•  Noordwijk:
From Noordwijk you can take bus 361 towards Schiphol (via Sassenheim). After approximately 40 minutes you have to get off at bus stop: Lisse Centrum.
•  Sassenheim Station:
If you travel by train, you can also get off at Sassenheim Station and take bus 50 to Haarlem or bus 361 to Schiphol. After approximately 15 minutes you have to get off at bus stop: Lisse Centrum.
•  Schiphol:
If you travel by train, it's best you can get off at Schiphol and take bus number 361 in the direction of Noordwijk. After approximately 30 minutes you have to get off at the Lisse Centrum bus stop.
For current travel times we advise you to plan your trip via: 9292.nl. Or if you want to travel by taxi on departure, we can of course request this for you as soon as you check in.
Does De Oude Pastorie also rent bicycles to their guests?
No, unfortunately we do not rent bicycles. During the Keukenhof season you can go to Keukenhof to rent a bike. We do advise you to book a bike in advanced via their website, because the bicycle rental is are very popular during that period. The office of VVV Lisse, the tourist information centre is located right next to The Oude Pastorie. Here you can also ask where to rent bicycles in Lisse.
---
Lisse & Bulb Region
What are famous tourist attractions in Lisse?
Lisse has various tourist attractions, of which the best known is Keukenhof Flower Exhibition.
Here is a list of other tourist attractions:
•  Keukenhof Flower Exhibition
•  Museum De Zwarte Tulp/The Black Tulip
•  Sint Agatha Church
•  Walking and cycling in Lisse
•  Sailing in the Bulb Region
•  Keukenhof Castle & Landscape
•  Poldermillof the Zemelpolder
•  Children's Farm 'Poelepetaat'
•  Swimming pool 'De Waterkanten'
•  Theater Floralis
•  Lisser Art Museum
For more information about famous attractions and events in and around Lisse and the Bulb Region, click here.
Where can I go if I have questions about Lisse?
Located next to The Oude Pastorie is VVV Lisse. This is the tourist information center where they can provide you with information about Lisse and Bulb Region. The opening times of VVV Lisse are: Tuesday to Sunday from 10:00 AM to 5:00 PM.
---
Contact
For other questions you can email The Oude Pastorie via: info@deoudepastorielisse.nl or call us via: (+31) 252-204 004
Even if you have special wishes/requests, you can always contact us and we will see if it is possible to fulfill your request.