Although Lisse was founded around 1960, Lisse has been well-known since 1100 when it was called 'Lis'. In 1198 Lisse was officially mentioned for the first time in an old document. By that time Lisse was an old beach wall surrounded by heavily forested landscape and dunes. Around 1250 Willem II van Holland set up a church for the people that lived here and started a chapel on the dune top called "The Green Meadow of Lis", now better known as 'The Big Church' at square 'Het Vierkant'.
In the Middle Ages Lisse was a small, but growing town. The inhabitants lived from farming, agriculture and peat cutting. Slowly the nobility started building their summerhouses in Lisse, which lead to employment opportunities. Around 1500 there were about 50 houses. During the iconoclasm between 1572 and 1574 the Spanish troops looted the surroundings, resulting in the burn-down of the church. There was also a lot of poverty. In 1592 the church was being renovated, therefore the church service were held in The Oude Pastorie. Around that period the Catholic church transformed to a Reformed Church.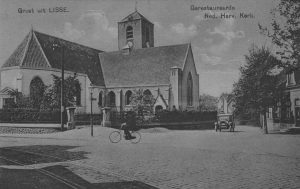 During the upcoming decades the floral/bulb culture began. The sand grounds in the area proved to be very suitable for the floral cultivation. Slowly but surely the surrounding old dunes were further excavated. Only a small part of the dunes and forests remained. The floral cultivation- and trade lead to an increase in employment possibilities and brought welfare. Because of a generous contribution, the church and The Oude Pastorie were renovated in 1858.
Until now it is still unclear what exactly happened after the restoration, since in 1876 a whole 'new' Oude Pastorie has been established. Rumors say that The Oude Pastorie had burned down. In The 'new' Oude Pastorie more preacher families have been living there, sometimes even two families at the same time until the Second World War. In 1940-1945 The 'new' Oude Pastorie functioned as an emergency hospital for the wounded. Later on it was taken over by the Germans and functioned as a headquarters.
After the turbulent time The Oude Pastorie in 1952 did not belong to the church anymore, but the indication remained. The Hoek family bought The Oude Pastorie and started a dental practice. They continued their dental practice for a long period of time until 1994. That is when the Schermer-Voest family bought the building and started an antique shop.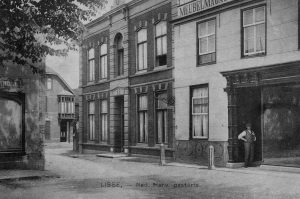 In 2018 the Hazebroek family bought the premises and after a general renovation The Oude Pastorie has been rebuilt into a B&B, an organic lunchroom with indoor garden, a fashion boutique for women (Chaveli's) and Work2Work, a company that focuses on re-integration services. That shows that The Oude Pastorie has always been a place that has been receiving guests. We will continue this tradition with love and that's why we will be more than happy to welcome you at The Oude Pastorie.